TLDR; I trade stocks using the commission-free trading platform Robinhood. It's easy to use and runs on your Android and iOS device. Use this link and they'll give us both a free share of stock.
A couple weeks ago I decided to step into the stock market game. I've had some limited success in the Marketwatch Stock Market Simulator, a virtual environment that gives you access to unlimited fake money to learn and practice trading. These successes are mostly hidden behind private games that I create to test various strategies, often using realistic limits on money since I don't really have access to $100,000.
Since my knowledge of stock trading is limited, I joined a Facebook group that helps people like me learn to effectively work the stock market. In the Facebook group, each day the admins provide a list of stocks that are likely to go up the next day based on their movement during the current day.
There is also a paid chat that is definitely worth joining. In it, the admins provide their own picks under various categories (swing trades, long swings, day trades, etc). They also answer a volley of questions that are asked every day about everything related to choosing stocks and how to strategize.
Many of us have expressed a desire to use the stock market to increase our incomes or possibly replace our current source. In other words, trade stocks for a living instead of doing whatever we all do. In general, we have realistic goals. We aren't trying to become Michael Douglas or Leonardo Dicaprio. We want to be able to spend time with our families more, pay off mortgages, student loans, and move into new homes. We aren't trying to buy a fleet of Lamborghinis.
Commission-Free Trading Stocks with Robinhood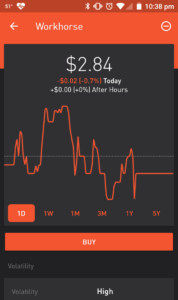 To trade stocks, you need a brokerage. Some people use TD Ameritrade, which comes with a killer stock market application called Think or Swim. It's a very effective platform to analyze stock market data in real time. Others use Trade-Ideas, another very powerful tool for analyzing stock market data in real time, complete with an AI-powered discovery tool to identify potential opportunities.
However, a large number of us use the Robinhood platform. Robinhood is a commission-free trading broker that makes trading extremely simple. It works via an app on your Android or iOS device, so you can run it on a phone or a tablet. You can easily create watch lists, search for stocks, and see price and volume data in real time.
Unfortunately, Robinhood isn't heavy on features. The service is based on a very stripped down platform that doesn't provide a lot of the tools you would expect to see from other brokers. Because of that, you'll definitely want to use screener and chart tools. Here are a few places you can try:
Also, you'll want to use Limit Order Types when you order because Robinhood may not buy or sell your stock at the price you saw on the screen. Prices change and if the stock is volatile enough, it may fluctuate while you're busy trying to tell Robinhood how many shares to buy or sell.
The Limit Order Type on buying and selling locks in that price so it only fires a buy when the price is at or below your limit, and only fires a sell when the price is at or above your limit. In my case, I almost never buy or sell something without using the Limit Order Type option.
Get Free Stock with Robinhood
Another reason people like Robinhood is because of a really awesome promotion they have. If you recommend Robinhood to a friend using a special affiliate link and that person signs up for the service, Robinhood gives you and your friend a free share of stock. Yes, free stock. Free REAL stock.
The stock you both receive will be randomly selected from an inventory of stock shares. Robinhood states that the stock could be worth between $2.50 and $200, and the pool of stock they pull from includes Ford, Facebook, and Sprint.
Personally, I'm not too thrilled about the Sprint one after my swarm of headaches from the company, but since I could just sell it off in three days (the time limit you have to hold it for), it's basically free money.
I've read that some people rarely trade their own money. One reviewer mentioned that he only trades using the free stocks. This seems like a very cost-effective way to build up your own portfolio.
My Goal in Stock Trading
I don't pretend to be a pro at this. I'm not even in the minor leagues. I've made some good calls and some bad ones. Probably more bad than good actually, but that's being fixed by listening to the group admins. They try to help us learn to be less impulsive, to stop freaking out at minor price drops, and to always, take your profits when you can.
My goal in stock trading is to build up enough money to move into a new house. I believe my kids deserve it and it's something I've wanted for them for quite a while. But that's why I do everything I do. From my client based development work to my WordPress theme shop and everything else in between, it's all because of them.
I know that's not going to happen overnight. Hell, it might not even happen this year. But I know that if I keep learning and follow basic strategy rules, that I will have a better chance of moving forward and actually achieving that goal.
Also, if some of my stock choices want to jump up 2000%, I'm cool with that, too.
As for now, I need to put a big focus on chart reading. Fortunately, there are a ton of resources available to help with that. Need a few? Here you go:
Investopedia – Extremely useful site full of information to take you from knowing nothing to knowing…well, a lot.
Garen Philips – This guy has several very helpful videos that break things down for us as he teaches himself how to day trade.
StockCharts – This site has a lot of great information, including stock data.