First, the backstory.
In the late 90s, I started getting very interested in turntable djing. This was likely influenced by DJs I would listen to on a local radio station.
One year for Christmas, I asked my dad for a turntable mixer. He wasn't sure what to get, and since I really had no idea about the equipment itself, I couldn't offer any advice. All I knew was that everyone, everywhere, used Technics turntables.
What I ended up with was an Optimus DJ mixer from RadioShack. It featured a crossfader and inputs for two turntables. By the looks of it, it was exactly what I was looking for. The reality was very different. The crossfader was extremely slow and shaped in a way that makes it impossible to use for scratching. As a mixer, though, it worked perfectly fine. It even had treble and bass controls, which were missing on other mixers I've owned.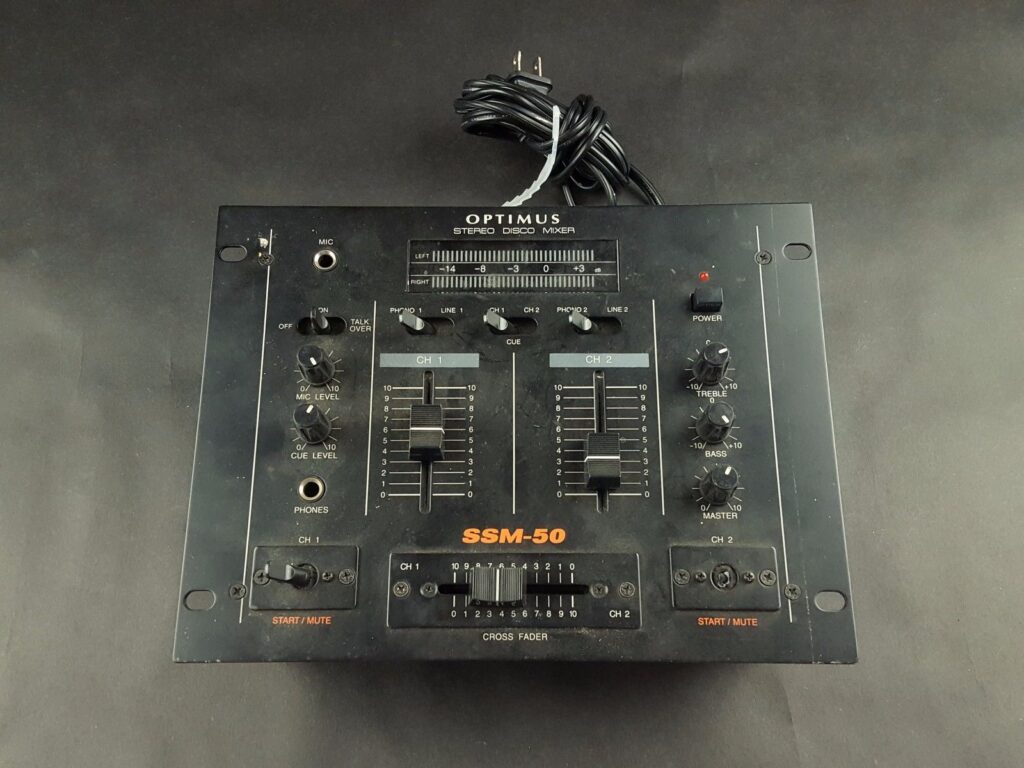 You'd think this would be a hindrance in my path toward scratch-tacular glory. Nope. I used it. What's really going to blow your mind is that this was the BEST piece of equipment I had. The turntable (yes, just one) that I used with it was attached to a small all-in-one stereo I borrowed from my grandmother. The platter was smaller than a full-size vinyl record, so it wobbled if you touched it. Yes, I was clearly a turntable bad ass.
Sometime later, I found out about this nifty new invention called the World Wide Web. I started using it to find out anything I could about turntable DJs. I was quickly able to find out what DJs were really using. Needless to say, Optimus DJ mixers are not among their equipment.
I found a company on-the-line called Music Factory. They sold enormous amounts of DJ equipment, things I never knew existed. That's where I found the equipment that would get me moving in the right direction: the BST-PR96 turntables and the American DJ XDM-241 Shredder mixer.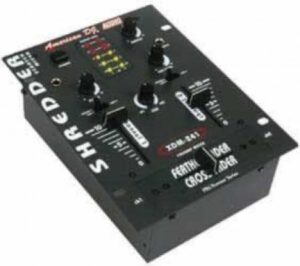 This was about as cheap as I could go and still have equipment that wasn't ridiculous. The turntables were belt drive, so not ideal for someone who wants to scratch. The mixer was smaller than most, and really stood out in a market that was crowded with 19-inch counterparts. Still, this was what I wanted, and it's what I got.
For years, I used this exact setup. I used it so heavily that I destroyed crossfaders repeatedly. American DJ sent me multiple replacement crossfaders over the next couple months before I finally left them alone. I loved using that mixer. It was always my go-to scratch mixer because it was so much faster than any of the others I had after it.
For Music, I found sites like Sandbox Automatic and Underground HipHop where I was able to purchase vinyl online. I hit every music store I could find around my area, searching for more and more vinyl.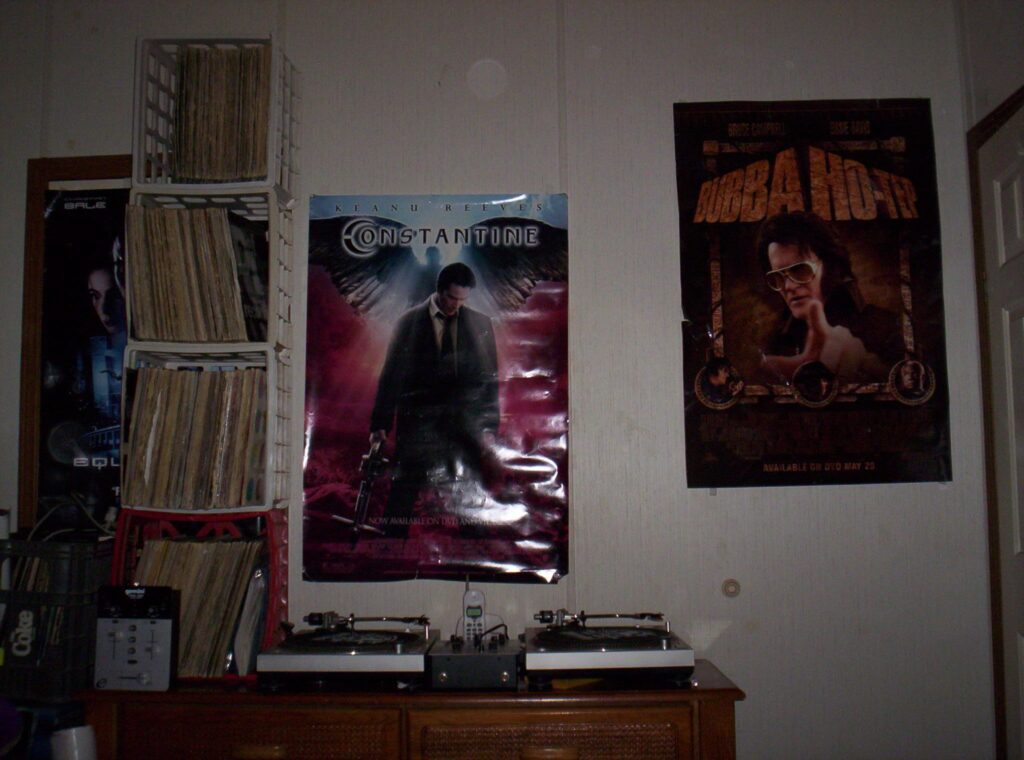 A couple years later I decided to buy a new set of equipment. I need something I could scratch with that wasn't as slow to respond as the belt drive turntables I had been using. This time, Musician's Friend was the company I hit up. I found a DJ kit that essentially everything you need in one box. The kit came with two Gemini XL-500 II turntables, a Gemini PMX-60 mixer and a couple other random things (I think it was a pair of headphones and a mic).
I'm not sure what the mixer was, but I believe it was one of the small PMX mixers. Over the years I bought 2 more Gemini mixers because it was cheaper to replace the whole thing than it was to buy a crossfader replacement.
Making things a bit more interesting
As time went on and I continued cutting, backspinning and trying to emulate my turntable heroes, I eventually started trying to do more. That's how this happened:
I got it in my head that I could do more interesting things with all four turntables. I used my American DJ Shredder with the Gemini tables because it was a much faster mixer, while one of my Gemini mixers was used with the BST turntables. I then ran everything to my stereo by using the Optimus mixer as a bridge for the other two mixers that were connected to the four turntables.
As awesome as this seems, the results were not. It really only worked well when I was mixing dance music. Also, at the time I was starting to move more and more away from playing and mixing music and more into turntablism. Two of the turntables would barely get used.
To do this setup, I had to use a large piece of plywood to extend the length of my dresser, since the top by itself was not big enough to accommodate the whole setup. This meant one of the BST turntables was sitting above nothing (you can see this in the picture).
I also had a thing for Jennifer Love Hewitt, which might be obvious from the posters on the wall.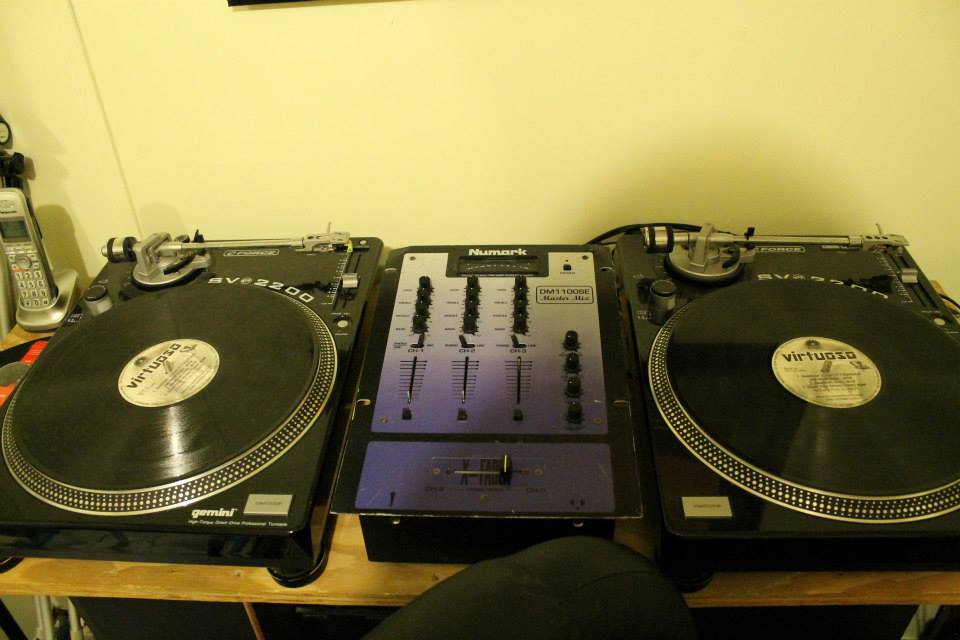 I eventually sold my Gemini turntables and threw out most of my mixers. I believe I still have the Shredder mixer but the last time I saw it, it was missing every switch and fader cap. It was a mess. I do still have the BST turntables. They are contained in a turntable coffin my grandfather custom made for it and the Shredder mixer.
A couple years ago I bought a set of turntables, complete with a mixer and coffin from a local-ish seller on eBay. The turntables are a pair of Gemini tables I never knew existed, the SV2200. They work pretty well but as you can see from the photo, I'll need to use a different mixer. I do have a new set of fader caps that can be used on this mixer but as this one is a bit worn out, I'll eventually replace it.
Also, that's the same piece of plywood I had with my 4 turntable set. I originally intended to use it to build an arcade console but never got around to it. Instead, I've dragged around this of plywood throughout my life for the past 20 years. Yes, I'm weird.
The same day I got the Gemini turntables, I received a package in the mail from another eBay seller. This one takes up much less room. It's the Traktor S2 digital controller.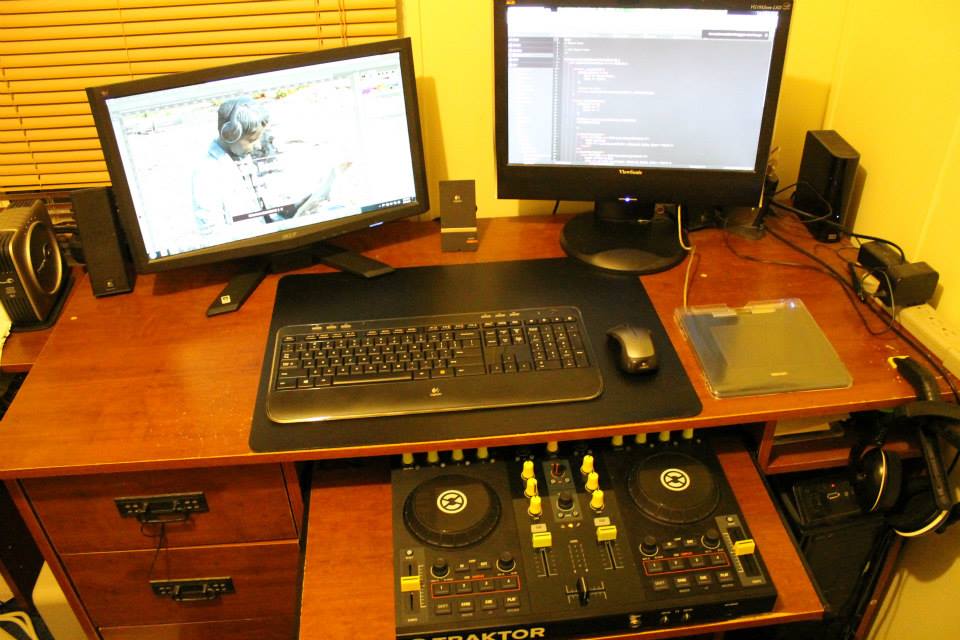 For a long time, I was very much against ever going with digital. This is because I started out as a vinyl DJ and know that certain things will always remain true:
Vinyl sounds better and always will
Vinyl djing takes a lot more skill because an mp3 doesn't skip when you touch the platter weird
A vinyl DJ looks much more awesome than someone fiddling with a small controller
That being said, I use my digital deck a lot more. I've also learned a lot more by using my digital deck because I'm not constantly shredding vinyl into sounding like a static heavy TV station. Plus, with vinyl, I wasn't able to mix music and sounds I had on my computer, though Serato was available at the time.
For those who don't know, Serato is a digital record system that makes it possible for you to use your vinyl record player with files on your computer. It still exists today and is used by a ton of DJs around the world. Unfortunately for me, at the time it was several hundred dollars.
As I mentioned, I have a Traktor S2 Kontroller from Native Instruments. It comes with software for your computer and makes it possible to mix your MP3 and Wav files. The jog wheels don't move on their own but are very responsive to touch. Also, the top and sides respond differently.
For instance, the tops of the jog wheels are responsible for actually spinning the track forward and backward while the sides can be used to slow or speed up the track as it plays. This makes it easier to adjust a track if it's slightly too fast or too slow.
It also features 4 cue buttons on each wheel. These cue buttons can be used to mark places in a track to instantly jump to. I use it a lot on files that are scratch tools because it makes it easy to get from one sound to another very quickly. It's also beneficial for marking places in songs so you know where something is said or happens, such as the first vocal of a track kicking in.
Looping is a really nice feature that I didn't have with a turntable (not an easy one at least). The software tracks out the BPM of anything you put through it and with that data, it provides an easy to use looping function. As a DJ, you can quickly lock down a section of a track to put through an endless loop, great for making breakbeats and extending instrumentals.
One of the things I was concerned with was the precision of the cuts, specifically how the latency would be between the deck and my computer. I'm very happy to say that there is no noticeable latency. It responds to everything as soon as you touch it.
Update 3/17/2020: My crossfader died a few months back and I've been unable to get a new one. The crossfader board is attached to the volume faders so it is all one big piece that must be replaced. I'll end up replacing the whole unit. I'm not sure if I'm going to stick with the Traktor or go with something else. Pioneer is a strong contender.
Acid Music Studio and Adobe Audition
For years Acid Music Studio has been in my musical arsenal. I've been using this software since the days when it was owned by the original creators, Sonic Foundry. I use it for assembling pieces of tracks together, sometimes building instrumentals with when I need a specific beat pattern. It works pretty well for what I use it for, but I've found myself using Adobe Audition more for effects mixing.
Because of the long amount of time I've spent using it, I'm a lot more comfortable with Acid Music Studio. I can record and reassemble an unlimited number of clips/tracks in whatever order I need, plus apply specific changes to each clip/track individually. I can do the same with Adobe Audition but I'm not sure if there may be a limit to how many tracks I can use in the multitrack editor.
Amazon sells Acid Music Studio in both physical form and downloadable format. For simplicity, I don't bother with the physical copy and instead opted for the newest version in downloadable format.
When microphone massacring needs to be done, I have one. I use the Samson C03U, a USB powered condenser microphone. The one I bought came in a kit with the shock mount and a small microphone stand meant for placing the mic on a desk. I don't use that stand — because I lost it — but instead use a regular full-size stand that I bought from RadioShack several years ago.
I also have a discontinued Nady SCM-950 (similar to this one) but I prefer the Samson. This is mostly because I don't have to deal with a preamp and 20ft mic cable plugged into my computer. The Samson C01U does what I need it to, from vocal recording to podcasting, at a great quality.
My crossfader was dying during recording these cuts and eventually failed completely before I assembled this. If that hadn't happened, there likely would have been actual Mortal Kombat cuts added to it.
The title of the song is based on the fact that I was eating a bologna sandwich at the time and really didn't care what it was called. As mentioned in my About Me, I have a habit of naming things weirdly.
This was one of the first tracks I made for My Head is Full of Pigeons. This video was made using Easy Movie Maker from the Windows 10 store. It's what I used to do when I didn't really want to put a lot of effort into a video. Just slam together a ton of still photos and done.
As someone who is very into horror movies, the minute I heard this looper beat I wanted to throw cuts on top of it. The result was a freestyle scratch session of mostly subtle scratches and moments of John Larroquette reminding you what this film was: a mad, and macabre nightmare. A chainsaw massacre.
More scratch practice. This was just a straight up layer over layer, starting with drums, followed by hi-hat, melody (part of the X-Files soundtrack), and finally regular scratches.
When I made this, I started with a hi-hat loop and drummed out a drum pattern with a kick and snare. I created a loop so I didn't have to do that for 4 minutes straight. After that, I played it back, first at one speed and half way through, I slowed it down. I prefer slower beats, which is probably why when I dropped the tempo the track improved significantly.
Oldboy is one of my favorite films. It is packed full of great lines but the rant Dae-su Oh gives at the end is my favorite. It is essentially the second time he does it but the rage part makes it much better.