Like a lot of people, I do a ton of my shopping on Amazon. One of my favorite things to do is look for random products. Sometimes I do this by searching for whatever pops in my head but other times Amazon either recommends it to me on the homepage or through related products.
As many people know, I'm a big fan of horror movies. More than that, I have a collection of thousands of movies that I've obtained over the years, either on VHS, DVD, Blu-Ray, or digital download. That's why these five weird things stood out to me so well.
Vigo the Carpathian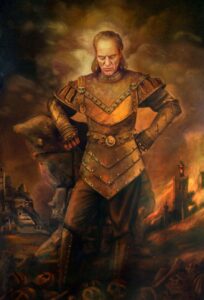 Remember Ghostbusters II? That was the one where New York was covered with dancing slim that our heroes combined with a walkman and Nintendo controller so they could animate the Statue of Liberty. The threat in the film was Vigo the Carpathian, a mass murdering dead guy whose soul is trapped in a painting.
Now you can own that painting. Well, a replica of it. It's 24″x36″ and perfect for anyone who loves Ghostbusters II. I have one in my cart right now but I'll need to find a frame for it as well. That might take a little more digging because something like this needs to go in a large gaudy looking frame for maximum impact.
Handbook for the Recently Deceased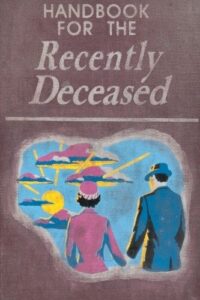 Every fan of Beetlejuice knows this book. It was the handbook provided to those who had recently died, meant to give guidance on their new position in existence. Unfortunately, its wealth of information, which discussed topics such as how geographical and temporal parameters vary from manifestation to manifestation. was often lost in itself due to being overly complicated and boring.
In other words, it read like stereo instructions.
This book is empty on purpose. The author states that "you can fill it with your own absurd thoughts." That sounds like a perfect idea for this book. Of course, as someone who reviewed it stated, if there were any words in it than you must be dead.
Die Hard Christmas Story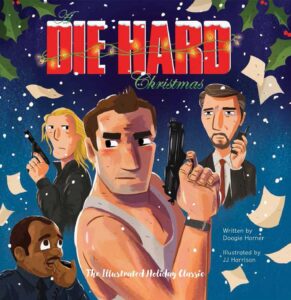 This book recently hit the news so you may already know about it. As has been proven by science, Die Hard is in fact, the greatest Christmas Story ever told. If you've ever wondered to yourself why this wonderful movie has never been turned into a full-color storybook, you're  now in luck!
The book isn't hitting the shelves until October 24th, but I can imagine they already have quite a few pre-orders. Mine is one of them.
Die Hard: The Authorized Coloring and Activity Book
While the full-color storybook caught a bit of press recently, this one may have been missed. This is unfortunate because now, at long last, we adults can finally put our crayons and colored pencils to good use. The Die Hard coloring book has 80 pages, so you might want to buy a bunch of red crayons.
Dale's RV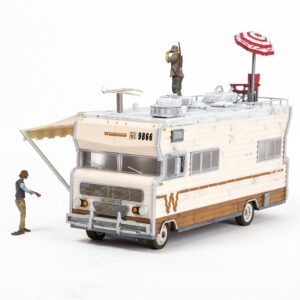 Do you like models? I do. When I was a kid I put a ton of them together. Everything from an SR-71 Blackbird to a large 6 cylinder engine. The engine was pretty complicated and for some reason, they waited until the end to tell you that you should use cooking oil on the pistons to make it work better. But that's a whole different story.
If you're a fan of the Walking Dead, like most people out there, then you'll recognize this construction set of Dale's RV. According to the reviews, it's made with pieces similar to Legos. This would explain the difference between a model and a construction set. One stays together, the other can come apart. This is one of several sets from The Walking Dead, so if you really wanted to, you could pick up a bunch of these and build some kind of super diorama. I would love to do that but unfortunately, I don't have the room and my children would absolutely destroy them.
Carl's Pudding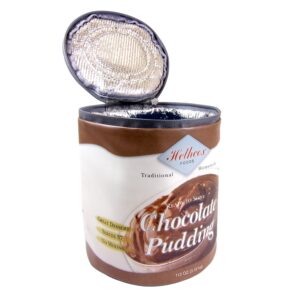 Remember the episode of Walking Dead that was focused primarily on Carl? In it, we learned about Michone's backstory and found even more reasons to dislike like Carl.
During his wandering throughout the neighborhood, Carl found a house with a walker in it who was apparently hungry for shoes. After losing his shoe to this dastardly undead thief, Carl sat outside and ate over 100 ounces of pudding. I can only imagine just how horrible the result of doing that would have been.
Now you can own the giant can, in lunchbox form. I do believe this is going on my Christmas Wishlist simply for the absurdity of it. Unless you know what this thing is from, it just looks really weird.
It Lunchbox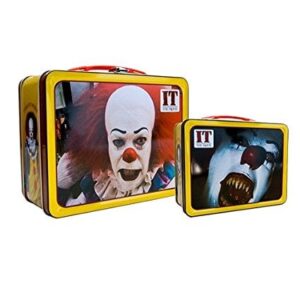 Stephen King's It has hit the box office running and continues to rake in the cash. As terrifying as the new film may be, many of us remember watching the original film. Even as a made for TV movie, that film managed to create a generation of clown fearing people. You likely know someone who was hugely affected by that movie and now claims a phobia of clowns.
With that in mind, in case you want to scare the crap out of them, Amazon has a lunchbox with the Tim Curry version of the clown plastered on both sides. Both images are the scary version, with no happy laughter in sight. Well, maybe from you when you freak out someone with it.
Phantasm Tall Man
As much as I really wanted to add the Phantasm Tall Man figure to this list, it would certainly be almost as much of a tragedy as the actual figure is. That thing is nothing short of terrible.  They made it look more like Dracula's claymation grampa.
Until Sideshow Collectibles finally gets around to making a Tall Man figure (something I requested a few months back), there is always this one on eBay: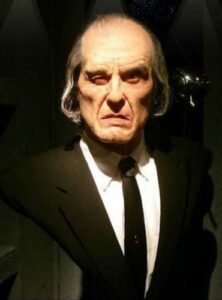 This thing is freaking awesome. It's also expensive, and at $8999 I doubt it's going anywhere anytime soon. It's been on eBay for several months (maybe longer) but has the most detail that I've ever seen in a Phantas prop. It's very similar to the quality of work you see in what Sideshow Collectibles sells and if I had $9k of disposable cash laying around, this thing would be on its way to my house.
I can just imagine setting this up in a dark corner and watching it scare the snot out of everyone who walks in on it.